What is AdRoll?
AdRoll was founded in 2006 and based on San Francisco, US. Adroll is a product-focused company, marketing and advertising platform that enables brands to easily launch display ads social media ads and email that engages existing customers attracts new ones and grows revenue. You can manage ad campaigns across Google, Facebook, Instagram, Pinterest and TikTok in one place. AdRoll platform's machine learning analyzes real-time advertising data to drive traffic and sales. AdRoll gives you the opportunity to take advantage of display, social, and email ads within one platform. This way, you can use combine efforts across channels to reach your larger business goal.
It's a division of the umbrella company NextRoll together with RollWorks. Adwoll is delivering unprecedented growth for D2C brands with display ads, social ads, behavioral emails, and actionable insights in one platform. RollWorks is driving B2B growth with an account-based platform that identifies accounts, engages them across channels, and measures campaign effectiveness.
Their Cross-Channel Attribution Insights help you to monitor and optimize some of your marketing activities, like Google Ads or Meta Ads in one place. The revenue tracking and attributed conversion reports let you have a holistic overview to optimize the campaigns. Therefore, Adroll uses its own pixel to determine all these data with its own attribution way called as Blended Last Touch Attribution with a priority on clicks, so you may see huge discrepancies with any other attribution models like Google Analytics. 
One of their unique selling points is that their machine learning engine uses established data on 70% of the world's online shoppers to predict behavior, ad engagement, and store performance better than anyone.
It's actually easy to learn how to start to run campaigns with AdRoll, as the interface is quite simple and user-friendly.  At first, you need to create an account, integrate pixel, manage the payment profile, and then start the campaigns. Let's dive in to review AdRoll MarTech platform.
AdRoll Integrated Channels
The Adroll platform let you to integrate the below ad accounts to your AdRoll account to enable a holistic view of all your marketing efforts within one interface.
Facebook Advertising
Instagram Advertising
Pinterest Advertising
TikTok Advertising
Google Ads
Klaviyo
After the integration, you will be able to create social ad campaigns in acquisition or remarketing purposes. Also you can review the existing campaigns on Adroll's interface
Therefore, it's possible to edit several sections like changing budget, enable or pause or add audiences etc. with Facebook & Instagram, Pinterest and TikTok ad campaigns.
For social channels, you can only select an ad account that uses the same currency as your AdRoll account, otherwise it won't be integrated.
But, you can not edit the imported Google Ads campaigns or create new campaigns via AdRoll's interface, but only analyze the basic results of your existing ads.
AdRoll Ecommerce Marketing Platform Integration
AdRoll Marketing Platform has partnership with the main Ecommerce Marketing Platforms, such as; Shopify, Magento, PrestaShop, WooCommerce, BigCommerce and Wix.
So, it's possible to connect your store with Adroll with a few clicks to integrate the platform to enable tracking, conversions, audience lists, targeting and other settings.
AdRoll Partners
Additional to eCommerce Platforms mentioned above, AdRoll also has partnership with a few companies in CRM, Tracking & Reporting, Tag Management, Advertising, Cross Channel Reporting, Reviews and Marketing Automation categories.
The partner list consists Google Ads / Analytics, Facebook, Mailchimp, Klaviyo and several more, you can view all partners on this page. Their mobile app supply partners are Google, StartApp, Bidswitch, and OpenX
The partner integrations help you attract, convert, and grow audiences for your store. Within a few clicks, you can connect your store to a new or existing AdRoll account and start running campaigns across our extensive inventory without any developer or creative resources.
They are partnered with 500+ networks and exchanges, such as Display Exchanges like AppNexus, Facebook. DoubleClick, Yahoo, Rubicon, Native Exchanges like Taboola, Outbrain, Nativo.
How to Install AdRoll Pixel?
Adroll use its own pixel to track website activities, stats, conversions and collect user data. It's crucial to make sure Adroll Pixel is integrated without any issues and installed on every page of your website. 
You can install the pixel manually or with an automatic integration. It's highly recommended to use automatic method as simple and smooth way. If you use Google Tag Manager or main ecommerce marketing platforms such as Shopify, Woocommerce or BigCommerce etc. you can finalize it with few clicks without manual code input to your website.
You can have a look to follow their guidelines for pixel setup post to have a better understanding.
After you place the pixel code on your website, navigate back to AdRoll account and click Verify Connection, it will take about a day to finalize the integration.
You can also use AdRoll's PixelPal Chrome Extension to review and troubleshoot your integration, create audiences from your website and authorize forms for data collection. Open the extension to confirm your connection, if you see Green Checkmark and the status says JS Pixel Detected, then the code has been installed correctly.
Adroll Campaign Types
AdRoll platform helps to run cross-channel retargeting campaigns, but also has options to reach new visitors in order to acquire new customers as branding and prospective campaigns. In overall, you can create both acquisition and remarketing ad campaigns across web and social, build newsletter sequences and review other campaigns with cross-channel measurement reports. Hence, you can create an optimal mix between generating purchase intent and activating purchase intent.
It's possible to run newsletter campaigns with strategic recipes for dedicated retargeting strategies like to reach people who added a product to cart but not purchased or just send a thanks you email after a purchase. You can also automate these email campaigns and schedule the emails for specific purposes.
AdRoll does not have a minimum daily spend, but a minimum daily budget of $2.50 in order to launch a campaign.
The common pricing models "CPC, CPM and CPA" are available, but your campaign must have achieved at least 7 conversions over the last 14 days in order to run your target CPA Bid Strategy.
It's possible to select to target only Desktop or Mobile Web or Mobile App traffic during the campaign setup process, but only at adgroup level. 
Even I set a bid cap for a campaign it just doesn't work for none of the models, like I was getting avg. CPC over $7 but added cap was $1, same ridiculous issue with target CPA. And that's reasoned to their Machine Learning AI: BidIQ 🙂 You should have big audience sizes, all recommended ad sizes added with alternative designs and extend your targeting to all devices and as many countries in order to expect better results from AdRoll's algorithm. 
There are methods for the acquisiton-type campaigns one of them "lookalike" which their system automatically target audiences without our input and other is "Contextual" where we can select quite limited topic categories.
However, even there is a placement report to analyze where your ads were visible, it's not possible to select to target specific websites or apps, but just let us to exclude them at campaign level.
I strongly suggest you to use UTM tags for each of your AdRoll campaigns in order to get more data to analyze the results properly. However, it's not possible to use UTMs at campaign level but only available ad level. So, if you want to use same ad for different campaign with separated UTMs, you just need to reupload the same one with different name.
Btw, I also suggest you to use "unique names" for each ads to recognize them, otherwise "Ad Library" turn into a messy place to work on.
While creating UTMs, you should consider to use Macro inputs to gather that will dynamically populate with the relevant info once the ad is clicked and the UTMs are triggered. You can also use Adroll UTM Builder and the below table shows the all available macros in AdRoll platform.
| | |
| --- | --- |
| Type | Macro |
| click | [ADROLL:CAMPAIGN_TYPE] |
| click | [ADROLL:CAMPAIGN_NAME] |
| click | [ADROLL:ADVERTISABLE_EID] |
| click | [ADROLL:CAMPAIGN_EID] |
| click | [ADROLL:AD_GROUP_EID] |
| click | [ADROLL:AD_EID] |
| click | [ADROLL:MOBILE_ID] |
| click | [ADROLL:_ID] |
| click | [ADROLL:DOMAIN] |
| click | [ADROLL:NETWORK] |
| click | [ADROLL:DEVICE_TYPE] |
| view,click | [timestamp] |
| view | [ADROLL_HEIGHT] |
| view | [ADROLL_WIDTH] |
| view | [CAMPAIGN_EID] |
| view | [ADGROUP_EID] |
| view | [AD_EID] |
| view | [PLACEMENT] |
PRO Tip for Location Targeting:
Location targeting can be done only at ad group level and it works as "people who are/were and have/had interest in"
It means even if you only target USA, you can get impressions and clicks from any other countries.
If you target only specific countries or regions, and do not provide service & products to any others, you should Manually select and exclude them for each of your campaigns.
Even if you don't have any country restriction, I strongly suggest you to select countries by manually, otherwise you may end up obvious unqualified traffic. 
AdRoll Recommended Ad Sizes & Specs 
Here is the list for the most common banner ads sizes and specifications that you can use for your Adroll paid ads campaigns
Additional to these, you can create dynamic ads based on your your product feed. AdRoll's dynamic ad creation tools is actually quite simple to use with several ad design options.
By the way, all plans includes "Creative Services" that lets you to request static banner ads from their team to be prepared -with a limitation- specifically FREE for you.
300×250

160×600
300×600
970×250
728×90
320×50
Requirements: 
| | |
| --- | --- |
| File Type: | JPG, PNG, and GIF (up to 30 seconds, 15-20 fps, no looping)  |
| File Size: | 150 KB  |
600×315 (1200×628 1.91:1 aspect ratio)
600×600 (1200×1200 1:1 aspect ratio)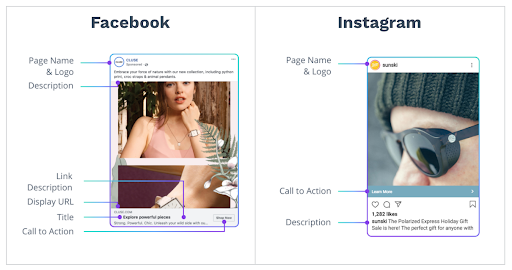 Requirements:
| | |
| --- | --- |
| File Type: | JPG, PNG, and GIF  |
| File Size: | 30MB |
| Title: | Up to 25 characters (recommended) |
| Description: | Up to 125 characters recommended, including spaces |
| Calls To Action: | Defaults to "Learn More" |
Static Native Ads Recommended sizes:
600×315
 
600×600
600×500
Requirements:
| | |
| --- | --- |
| File Type: | JPG, PNG, and GIF  |
| File Size: | Up to 1MB |
| Title: | Up to 60 characters |
| Description: | Up to 140 characters |
| Brand Name: | Up to 30 characters |
AdRoll Pricing Plans and Cost
They offer basically 2 different packages named as "Starter (Ads) and Growth (Marketing & Ads+)" it's also possible to get a custom quote with Advanced Package.
The basic plan "Ads" lets you to run display and native ads as pay-as-you-go, but email marketing, social channels and monthly ad credits are not available.
Marketing & Ads Plus package includes Web-based ads, connected social media ads, email marketing, audience segmentation, and our suite of analytics and optimization tools. In this package AdRoll ad credits give you dedicated funds to use towards advertising that will be send to you account at each months. There are 3 types of ad credits that available through a recurring subscription or an annual agreement; "Signup ad credit" "Package ad credits" and "Annual purchase ad credit"
At you account, you may find a simple widget to determine which package suits you best based on your Monthly Unique Visitors. And you may guess, it's "suggesting" you to upgrade the package but not with an exact estimate cost.
Actually, their package is priced based on the MUV numbers. It means, AdRoll subscription fee will increase accordingly with your website's traffic.  
At last, the payments are done weekly.
AdRoll Customer Report
It's possible to reach Adroll via online chat, contact form, email. And they also assign you a dedicated customer success managers to review your account, help for any issues or come up with suggestions. Based on my experiences, the direct contacts are quite responsive, helpful and have average level of ad account management experience. 
Final words about AdRoll, does it worth?
There are several and better AdRoll alternative as tracking software in market. AdRoll's attribution model is just vogue data as it keep showing assisted conversions while reading their reports but quite a huge discrepancies with your website's reports.
It's easy to run remarketing campaigns on web and social platforms and manage them together in one platform. AdRoll's simplicity and ease of use may be the something you can try if you are not into to setup ad accounts and creating campaigns separately. As their motto; "one platform, one purchase, one login" their campaign setup and ad creations process quite beginner-friendly and straightforward. You should also consider to run social ads only via AdRoll, might limit your targeting and capacity as you won't be able to use several native features of these ad platforms. 
If you don't you any other email send out service, you can try -or blend it into existing ones- AdRoll's automated email feature.
However, their native Web campaigns have targeting limitations especially for branding & acquisition type of campaigns. I just does not bring any value to run that type of ads with AdRoll. Their reporting has also limits to show you the all details in your campaigns.  
If you need any support for your AdRoll campaigns, do not hesitate to reach me out! 🙂